AUCTION: JULY 13TH 12:00PM
Located Tulsa north of 41st & S 145th E Ave (Aspen) with road frontage off of Aspen.  Land is in a high growth area with Battle Creek Golf Club to the south.  Several new housing addition located in close proximity to property including The Crossing at Battle Creek to the south.
Directions:  Exit Hwy 51 on S 145th E Ave (Aspen).  North on S 145th E Ave (Aspen) approximately 2.5 miles.  Property on east side of road just past S145th E Ave (Aspen) and E 36th St.
Auction Overview
AUCTION DATE & TIME:
 July 13th, 12:00PM
AUCTION LOCATION:
(Offsite)
Tulsa Boys Home
2727 S 137th W. Ave.
Sand Springs, OK 74063
OPEN HOUSE / INSPECTIONS:
View at your convenience during daylight hours
BUYER-BROKER:
3% Buyer Broker Participation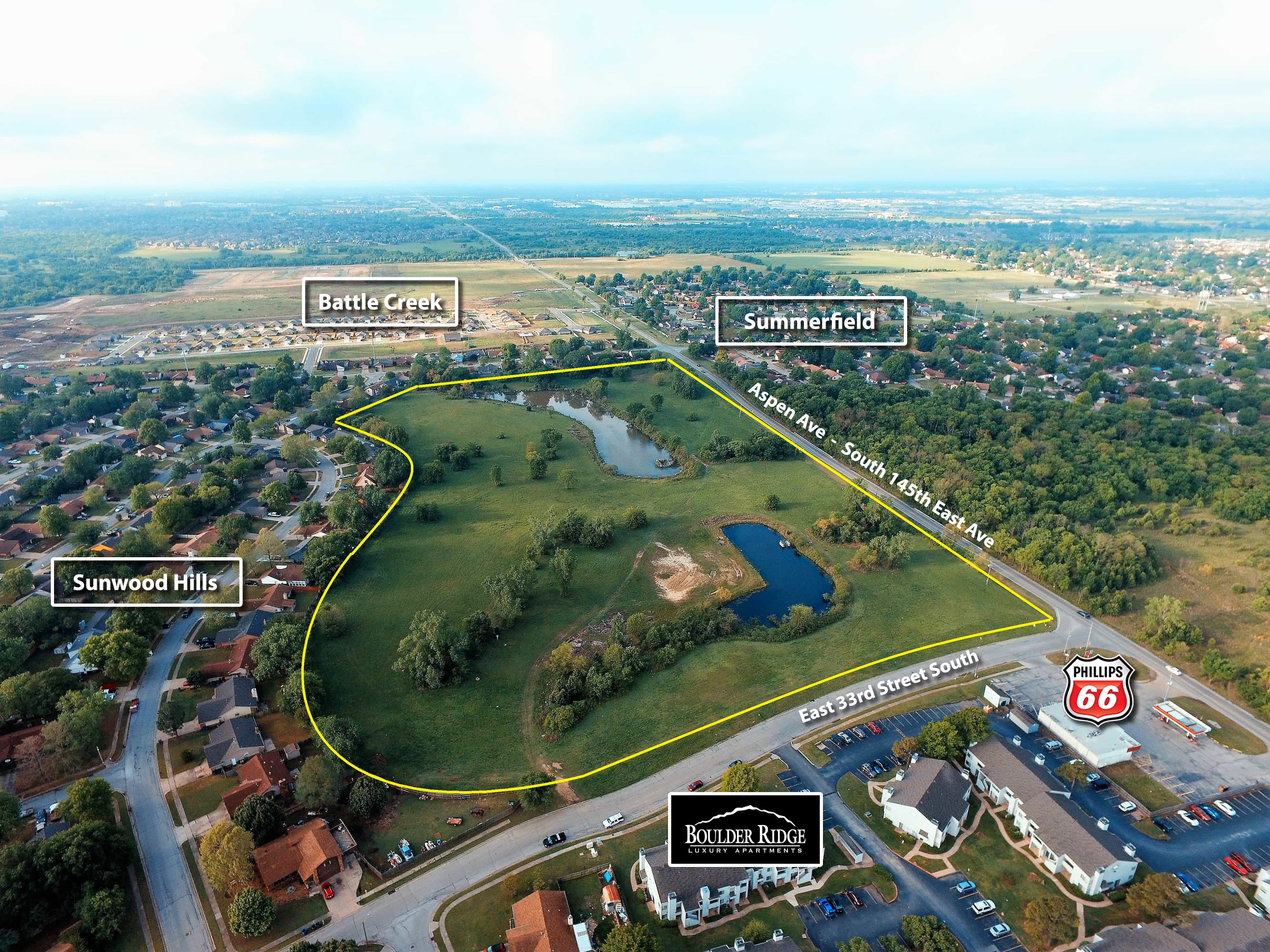 Property is currently zoned Residential Multifamily (RM-1) with access to the west off of S145th E Ave (Aspen) and E 33rd St to the north.  Apartment complex to the north with established sub-division on the east side of property.  Two ponds lie within the property allowing scenic building sites.
LICENSE INFO:  OK RE Lic# 159708 Ronn Cunningham | Cunningham Johnson Auctions LLC
This 26+/- ac was donated to Tulsa Boys Home and they have decided to offer it for auction. Tulsa Boys Home has been delivering residential services to 64 boys since 1918. The mission of the Tulsa Boys Home is to provide the highest quality residential service to young boys needing placement outside their home for the purpose of developing well-adjusted, responsible adults and strengthening the family.
The property is located in a high residential growth area presenting an opportunity for development in a residential multi-family(RM1) low density zoned area.  Shopping, medical, restaurants and easy access to highways is in close proximity to the property.
The Eastgate Metroplex, is located at East 21st Street and South 145th East Avenue (Aspen), and currently is an employment center, having been converted from a retail shopping mall. Under the vision, this area will continue to develop as an employment center and will be enhanced with transit service to downtown and neighborhoods in between. Retail, grocery and other services will be added to the office and other employment uses, transforming the area into a mixed-use center. Surrounding vacant land will provide space to develop new homes in a compact, pedestrian friendly community that is predominantly single family, but also includes some townhomes, apartments and condos. These new neighborhoods will expand the range of transit-accessible housing options for people who work in the area, or along Garnett Road or East 21st Street.  (For more information visit "Maps & Surveys" on our website for the comprehensive plan.)
SCHOOLS:
UTILITIES:
Water:     City of Tulsa
Electric:   AEP
Sewer:     City of Tulsa
Gas:         ONG
TAXES: $9,376 (2016)
All map & boundary illustrations are approximate – please refer to survey.
Property pictures & video represent identified parcel(s) however, pictures & video may show multiple parcels and/or property not included in the auction.
All map & boundary illustrations are approximate – refer to legal description.
DISCLOSURES:
All parcels subject to any existing recorded easements.
Subject to restrictive covenants (call office for details).
Terms & Conditions:
3% Buyer's Premium applies to this sale.  Buyers-premium is an additional fee (3% of high-bid amount) paid by the high-bidder
All properties are being sold 'as is, where is' and are not subject to financing, inspections or any other contingencies.
CJ Auctions represents the seller only.
The high bidder must make a 10% (Min $5,000) non-refundable deposit on sale day (cash, personal or cashier checks)
Buyer will receive deed and title insurance.
Buyer will pay for (but not limited to) the survey, closing fee, title policy. Taxes will be prorated through date of closing.
Balance and closing costs are due 30 days from seller acceptance
Sale is subject to seller confirmation
All bidders must register with CJ Auctions prior to bidding (registration is held 1-hour prior to auction) and provide a driver's license or government-issued identification.
Absentee bidders must pre-register and qualify through CJ Auctions 48 hours prior to sale day.
All persons inspecting the property, attending an auction do so at their own risk and shall not hold CJ Auctions or their agents liable for damages to their person or property.
ONLINE BIDDING: Individuals must wire 10% of opening bid amount (minimum $10,000) 48 hours prior to auction to be fully authorized to bid online. Contact CJ Auctions at 918 550 8118 for detailed wiring instructions. (Note: If property is selling by the acre then opening bid is multiplied by the total acreage)
Contact CJ Auctions for title commitment and copy of easements.
LICENSE INFO:  OK RE Lic# 159708 Ronn Cunningham | Cunningham Johnson Auctions LLC
Method of Sale: Property is selling by the acre in one parcel (High Bid multiplied by the number of acreage.)