AUCTION: June 10th, 2018
Grand Lake Development Property
37.5 ac and 2222ft shoreline, 3 miles West of Grove
Includes home, building/store, dock
Directions: From Hwy 10 and 59 in Grove, go south .7 miles, then West on Har-Ber Rd. for 2.7 miles to 595 road, then west to property.
Auction Overview
AUCTION DATE & TIME:
June 10th, 2018 at 2pm
AUCTION LOCATION:
1650 Har-Ber Village Road
Grove, OK
OPEN HOUSE / INSPECTIONS:
Sundays 2-4pm
May 20th & 27th, June 3rd
and 1-hour prior to auction
BUYER-BROKER:
3% Buyer Broker Participation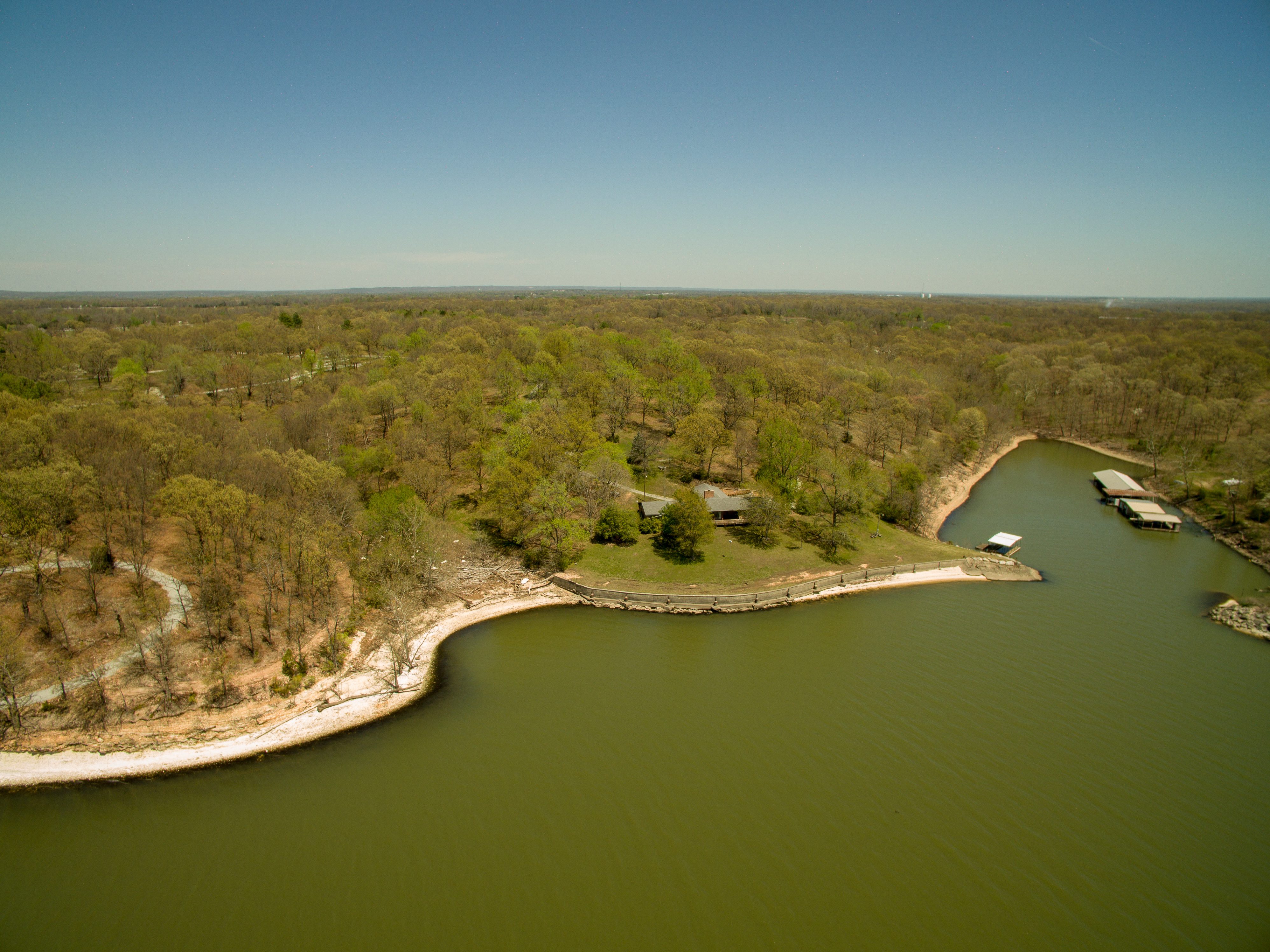 Outstanding development property 3 miles west of downtown Grove featuring 2222+/- ft. of Grand Lake shoreline and 37.5 acres. Plentiful building sites with main lake and protected cove shoreline and views. Included is a 3BR, 3BA home  
LICENSE INFO:  OK RE Lic# 159708 Ronn Cunningham | Cunningham Johnson Auctions LLC
Parcel 1:
Home on 1.69 ac. with 377.53 ft of lakefront
Description: 3BR, 3BA full brick home with 2624sf (per county records) overlooking Grand Lake. The open style kitchen leads to a step-down den with main lake views, a den with wood beamed ceilings and wood burning fireplace, lakeview picture windows. Also features dining room, foyer, utility room and ample storage. Full brick exterior with carport, comp roof and landscaping. Wood deck overlooks main lake with 180-degree views. Paved driveway leads to home. A water well is located on the parcel which services the irrigation system.
Parcel 2
Antique Store on .47ac.
Description: Originally built as an antique store or can easily be re-purposed. Approximately 1400sf with large front room featuring parquet wood floors, knotty pine walls and vaulted ceiling with chandeliers and ceiling fans. Includes clerk desk, decorative fireplace. Work room: extensive shelving, wash room and work area with countertop and sink. Overhead door provides easy access for equipment. Exterior has wood paneling, comp roof covered front porch. Heat and air provided by window unit and heat strips.
Parcels 3,4 and 5
Land parcels: each parcel features lake frontage, hardwood trees with dogwoods scattered throughout on rolling terrain. Abundant building sites with main lake views.
Parcel 3: 7.08ac. with 572 ft. of shoreline
Parcel 4: 6.90ac. with 420.22 ft. of shoreline
Parcel 5: 21.62ac. with 852.46 ft. shoreline
SCHOOLS:
UTILITIES:
Electric:    Northeast Oklahoma Electric Coop
Water:        Grove Municipal Service Authority
Irrigation:  Private Water Well
Gas:          Private Propane
TAXES:  $4,403(2017)
All map & boundary illustrations are approximate – please refer to survey.
Property pictures & video represent identified parcel(s) however, pictures & video may show multiple parcels and/or property not included in the auction.
All map & boundary illustrations are approximate – refer to survey.
• All parcels subject to any existing recorded easements. Refer to Survey
• Locations of parcel signs, maps, and picture illustrations are for reference only. Refer to survey for boundaries and/or legal descriptions. Fence lines may not follow property boundaries per survey.
• If property divides, all abstracts covering any individual parcel will be placed on deposit with said title company to be held for the use of any and all future buyers. Buyers are responsible for the cost of supplemental abstract(s).
• $500 survey fee per parcel. Call office for a copy of survey or find it on our website.
• All parcels are accessed by Har-Ber Village road and/or a 33 ft road easement recorded..
• Dock transfer/permit for buyer of parcel 1 will be buyer's responsibility. Contact Janet at G.R.D.A. 918-782-4726.
• Home encroaches over G.R.D.A. take-line
• 33′ ingress egress easement on parcel 2 in favor of parcels 1 and 3.
• Existing water meter services parcel 1 and 2, if parcels sell separately, parcel 2 will need to find own water source (water meters are available Grove Municipal Service Authority)
• Septic lateral lines servicing parcel 2 encroach on parcel 4. If parcels sell separately, a lateral line maintenance easement will be created and recorded.
Terms & Conditions:
• 3% Buyer's Premium applies to this sale.  Buyers-premium is an additional fee (3% of high-bid amount) paid by the high-bidder.
• All properties are being sold 'as is, where is' and are not subject to financing, inspections or any other contingencies.
• CJ Auctions represents the seller only.
• The high bidder must make a 10% (Min $5,000) non-refundable deposit on sale day (cash, personal or cashier checks)
• Buyer will receive deed and title insurance.
• Buyer will pay for (but not limited to) the survey, closing fee, title policy. Taxes will be prorated through date of closing.
• Balance and closing costs are due 30 days from seller acceptance
• Sale is subject to seller confirmation
• All bidders must register with CJ Auctions prior to bidding (registration is held 1-hour prior to auction) and provide a driver's license or government-issued identification.
• Absentee bidders must pre-register and qualify through CJ Auctions 48 hours prior to sale day.
• All persons inspecting the property, attending an open house or auction do so at their own risk and shall not hold CJ Auctions or their agents liable for damages to their person or property.
• ONLINE BIDDING: Individuals must wire 10% of opening bid amount (minimum $10,000) 48 hours prior to auction to be fully authorized to bid online. Contact CJ Auctions at 918 550 8118 for detailed wiring instructions. (Note: If property is selling by the acre then opening bid is multiplied by the total acreage)
LICENSE INFO:  OK RE Lic# 159708 Ronn Cunningham | Cunningham Johnson Auctions LLC
Method of Sale: Buyer(s) Choice
All parcels for a given grouping are on the table.  Once the high bid is reached the bidder has their choice in one parcel, all parcels, or any combination.  Once high bidder picks their parcel(s) the process starts over until all parcels are gone.