This farm provides an opportunity to purchase a well managed turn-key cattle operation with a 3BR, 3BA home on 184.79ac.  This farm will be selling in 8 parcels ranging from 5+/-ac to 50+/-ac allowing individuals to purchase the entire ranch or combined parcels to build their dream home on acreage in  an up-scale country living setting. This ranch is located 1.5 miles west of Republic within the Springfield metro area.
Directions:  From intersection of N Main Ave (Mo Hwy P) & W Elm St go west 1.5m, S on S Farm Rd 67 1 mile, W .5mi to property on north.
Auction Overview
AUCTION DATE & TIME:
Thursday, August 17th 6PM
AUCTION LOCATION:
10811 West Farm Rd 188
Republic, MO  65738
OPEN HOUSE / INSPECTIONS:
Sundays 2-4PM, July 30th, August 6th and 13th and one hour prior to sale
BUYER-BROKER:
3% compensation offered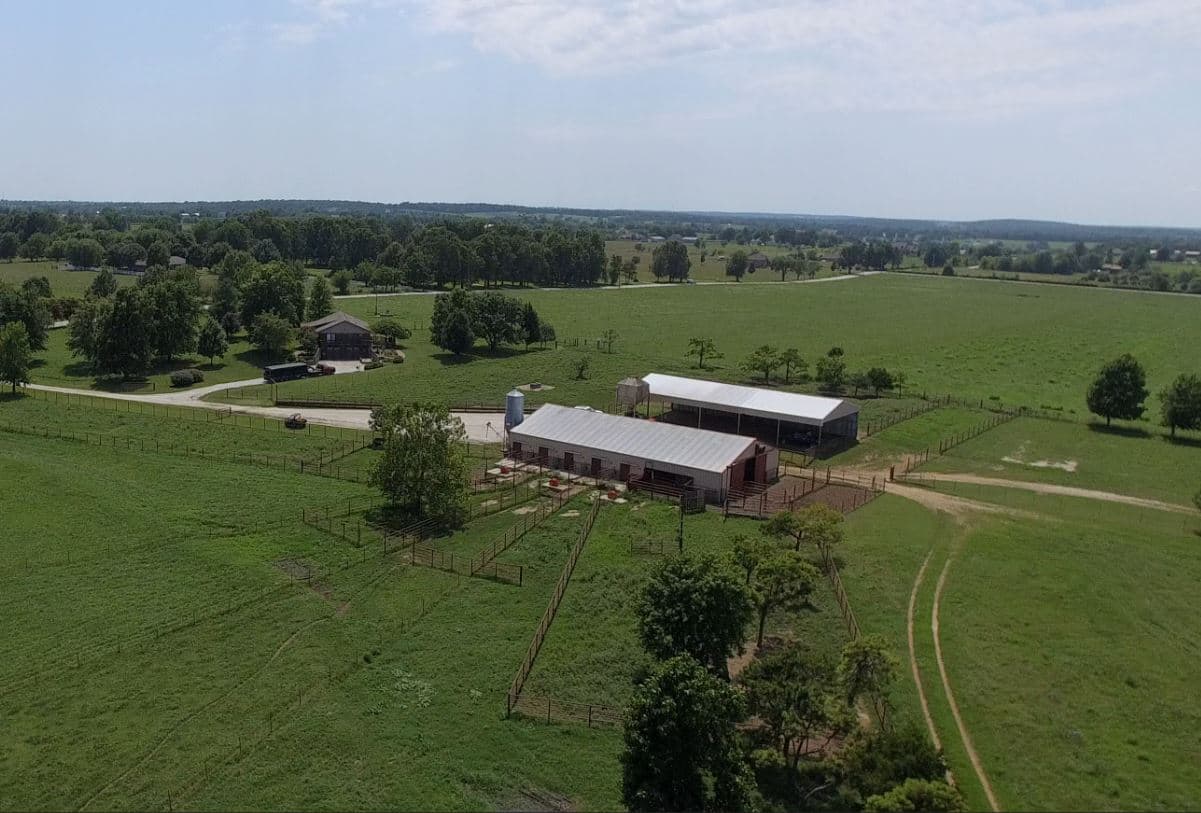 Property is located in the Springfield proximity within the highly desirable Republic School District.  This farm includes 184.79  contiguous acres in Greene County with a 3BR, 3BA home, pipe and barb wire fencing, corrals, alley & cattle working area, gathering pens, 2 wells, 4 ponds and 8 waterers.  In addition there is a 45′ x 90′ Morton building with inside pens and a 40′ x90′ Hay Barn.
LICENSE INFO:  MO RE Lic# BRA2013007910 Ronn Cunningham | Cunningham Johnson Auctions LLC
Parcel 1: 5.09+/- ac 3BR, 3BA brick home with Walk-out Basement and two car garage. Home has brick sidewalk leading to covered front porch, living room with beamed ceiling adjacent to dining area with windows with views of the front of the property.  Kitchen includes eat in bar, stainless electric range/oven, dishwasher, sink and pantry.  Countertops are solid surface with tile backsplash and tile floor. Three bedrooms located on main floor of home, master bedroom includes large walk-in closet and master bath with  walk-in shower. Water well located on this property.
Parcel 2: 27.12+/-ac accessed from W Farm Rd 188 (paved) to the south.  Majority of the property is fenced with a combination of pipe and barbed wire fencing and steel corner posts.  A 45′ x 90′ hay barn and a 45'X90′ Morton Building are situated on this parcel with pens located inside and outside, alley & cattle working area.
Parcel 3: 49.16+/-ac paved access from W Farm Rd 188 to the south.  2 ponds located on this parcel with excellent grasses and good fencing and corner posts.  Shade trees located around ponds and in center of parcel allowing relief.
Parcel 4: 12.89+/-ac with access from W State Hwy 174 (paved) to the north this parcel has excellent grass and is only 1.5 miles from downtown republic. Parcel would be ideal for house on acreage, pasture, or hay meadow.
Parcel 5: 49.47+/-ac accessed from W Farm Rd 188.  Large pond in the center of the parcel with some cross fencing.  Majority of parcel is fenced with great grasses and shade trees.  Parcel is ideal for someone interested in extra land to add on to parcel 2.
Parcel 6: 20.53+/-ac with pond on northern edge of parcel.  Pasture is accessed from W Farm Rd 188 to the south and is fenced on the northern and southern boundaries.
Parcel 7: 6.70+/-ac accessed from S Farm Rd 59 to the west.  This parcel offers individuals the ideal opportunity to build a home on small acreage with the ability to pick up extra acreage and pond if desired. Water well located on property.
Parcel 8: 13.83+/- ac corner parcel allowing access from both the W Farm Rd 188 (paved) to the south and S Farm Rd 59 tot he west.  Another ideal home site with extra acreage to available to pick up if desired.
SCHOOLS:
UTILITIES:
Water:    Private Well
Electric:  Empire Electric
Sewer:    Septic
Gas:        Propane ( JJ Propane – Leased)
All map & boundary illustrations are approximate – please refer to survey.
Property pictures & video represent identified parcel(s) however, pictures & video may show multiple parcels and/or property not included in the auction.
All map & boundary illustrations are approximate – refer to survey.
• All parcels subject to any existing recorded easements.
• Buyer responsible for $1350 per parcel survey fee.
• Locations of parcel signs, maps, and picture illustrations are for reference only.  Refer to survey for boundaries if available and/or legal descriptions.   Fence lines may not follow property boundaries per survey.
• Two water wells located on property one on Parcel 1 and one on Parcel 7 these wells will remain with the parcels. Conditions of wells unknown.  All other faucets and waterers are currently serviced by these wells, it will be responsibility of buyer to sever and obtain their own water source.
• Parcel 1 lateral lines are partially located on Parcel 2, if parcels sell separately a septic maintenance agreement will be in place.
• Electric meters on Parcel 1 and Parcel 7 will remain with these parcels.  Parcels 2-6, 8 are responsible for obtaining their own electric source.
• Greene County GIS mapping indicates a small sink hole located on property. Refer to website maps for location.
Terms & Conditions:
• 3% Buyer's Premium applies to this sale.  Buyers-premium is an additional fee (3% of high-bid amount) paid by the high-bidder.
• All properties are being sold 'as is, where is' and are not subject to financing, inspections or any other contingencies.
• CJ Auctions represents the seller only.
• The high bidder must make a 10% (Min $5,000) non-refundable deposit on sale day (cash, personal or cashier checks)
• Buyer will receive deed and title insurance.
• Buyer will pay for (but not limited to) the survey, closing fee, title policy. Taxes will be prorated through date of closing.
• Balance and closing costs are due 30 days from seller acceptance.
• Sale is subject to seller confirmation
• Contact CJ Auctions for title commitment and copy of easements
• All bidders must register with CJ Auctions prior to bidding (registration is held 1-hour prior to auction) and provide a driver's license or government-issued identification.
• Absentee bidders must pre-register and qualify through CJ Auctions 48 hours prior to sale day.
• All persons inspecting the property, attending an open house or auction do so at their own risk and shall not hold CJ Auctions or their agents liable for damages to their person or property.
• ONLINE BIDDING: Individuals must wire 10% of opening bid amount (minimum $10,000) 48 hours prior to auction to be fully authorized to bid online. Contact CJ Auctions at 918 550 8118 for detailed wiring instructions. (Note: If property is selling by the acre then opening bid is multiplied by the total acreage)
LICENSE INFO:  MO RE Lic# BRA2013007910 Ronald Cunningham | Cunningham Johnson Auctions LLC
Method of Sale: Parcels 1 & 2 will be offered choice by the dollar.  Parcels 3-8 are offered choice by the acre.
• Buyer's choice may be offered when more than one property/parcel is being auctioned
• Successful high bidder wins the right to choose a property/parcel or properties/parcels from a grouping of similar or like-kind
properties
• After high bidder selection, the property(s) is deleted from the group and the bidding commences again
• Process continues until all properties/parcels are selected
• When selling by the acre the high bid is multiplied by the number of surveyed acreage
• CJ Auctions does not recombine parcels after everything is auctioned.