Osage County Land Auction
145 acres Osage County land auction, just north of Sand Springs. 5 parcels.
Directions: West from downtown Tulsa, exit Hwy 412 on 129th north 6.5 miles. West on Overlook Drive, property on north side of road.
AUCTION: November 15th
AUCTION DATE & TIME:
November 15th, 2017, 3:30PM
AUCTION LOCATION:
1603 W Overlook Drive
(1.2 Miles West of Hwy 97)
OPEN HOUSE / INSPECTIONS:

2-4PM November 5th & 12th and one hour prior to sale
BUYER-BROKER:

3% Buyer-Broker Fee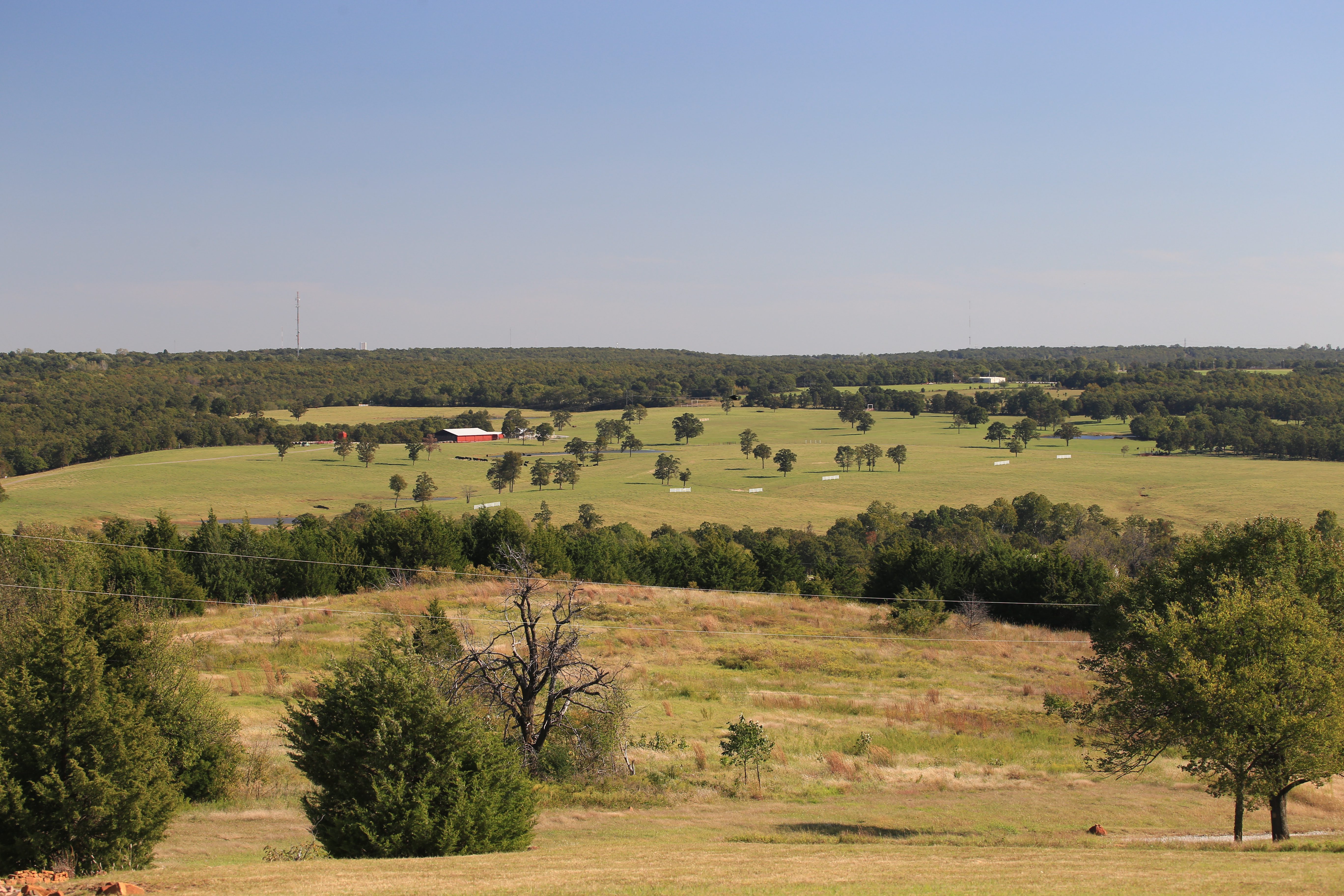 Osage County land auction for 145+/- AC sold in 5 parcels, a few minutes north of Sand Springs and only 20 minutes from downtown Tulsa. Ideal for dream home, development or investment. Learn about our other land and property auctions here.
LICENSE INFO:  OK RE Lic# 159708 Ronn Cunningham | Cunningham Johnson Auctions LLC
Overlook Ranch in the picturesque Osage Hills has spectacular views of downtown Tulsa, which is only 20 minutes away. A few miles from Sand Springs, this Osage County land auction offers 145 acres in 5 separate parcels, ranging from 17 to 58 acres. Each parcel offers a mix of cleared pastures, timbered terrain and hilltop building sites.
Surrounding properties include cattle ranches, large-lot housing developments and individual estates on acreage, making it perfect for your dream home, development opportunities, or other investment options. The ranch is also ideal for hunting and recreational activities.
Parcel 1
16.46+/-ac Cleared, level pasture ideal for building. Timbered hillside has views of downtown Tulsa to the east and a picturesque pond with paved-road frontage.
Parcel 2
32.74+/- ac Abundant prime hilltop building spots with north, east and south views. This Osage County land auction consists of cleared pastures and wooded hillsides. Accessed by paved-road frontage and a 40' road easement on west side.
Parcel 3
22.48+/- ac Timber on the south with paved-road frontage gives way to northern cleared areas featuring one of the highest points on the ranch. Superb views of downtown Tulsa skyline and valley below this Osage County land auction. Pond, over 1000' of paved-road frontage and additional access along a 40' road easement on the east boundary.
Parcel 4
17.97+/-ac Clear hilltop with predominantly southern views of downtown Tulsa skyline. Timber gradually increases down the hill to paved-road frontage. Also accessed via 40' road easement.
Parcel 5
55.01+/- ac Largest parcel in this Osage County land auction has terrain, fauna and flora, and well-maintained hilltop pastures ideal for livestock. Timber peppers land with 360-degree views of surrounding area including downtown Tulsa. Accessed via 40' road easement.
SCHOOLS:
Sand Springs Public Schools
UTILITIES:
Water:     Sand Springs
Electric:   REC
Sewer:     Septic
Gas:         Propane
All map & boundary illustrations are approximate – please refer to survey.
Property pictures & video represent identified parcel(s) however, pictures & video may show multiple parcels and/or property not included in the auction.
All map & boundary illustrations are approximate – refer to survey.
DISCLOSURES:
All parcels subject to any existing recorded easements.
Buyer responsible for $700 per parcel survey fee.
Locations of parcel signs, maps, and picture illustrations are for reference only. Refer to survey for boundaries if available and/or legal descriptions. Fence lines may not follow property boundaries per survey.
If property divides, all abstracts covering any individual parcel will be placed on deposit with said title company to be held for the use of any and all future buyers. Buyers are responsible for the cost of supplemental abstract(s).
No Minerals Convey.
Parcels 2, 3 & 5 have restriction "No Mobile Homes"
Existing driveway is a 40' ingress/egress utility easement favoring Parcels 2, 3, 4 & 5 and existing home on 10 acres. Home on 10 acres is not included in auction.
Water meter servicing home is located on the SW corner of Parcel 4.
Terms & Conditions:
• 3% Buyer's Premium applies to this sale.  Buyers-premium is an additional fee (3% of high-bid amount) paid by the high-bidder.
• All properties are being sold 'as is, where is' and are not subject to financing, inspections or any other contingencies.
• CJ Auctions represents the seller only.
• The high bidder must make a 10% (Min $5,000) non-refundable deposit on sale day (cash, personal or cashier checks)
• Buyer will receive deed and title insurance.
• Buyer will pay for (but not limited to) the survey, closing fee, title policy. Taxes will be prorated through date of closing.
• Balance and closing costs are due 30 days from seller acceptance
• Sale is subject to seller confirmation
• Contact CJ Auctions for title commitment and copy of easements
• All bidders must register with CJ Auctions prior to bidding (registration is held 1-hour prior to auction) and provide a driver's license or government-issued identification.
• Absentee bidders must pre-register and qualify through CJ Auctions 48 hours prior to sale day.
• All persons inspecting the property, attending an open house or auction do so at their own risk and shall not hold CJ Auctions or their agents liable for damages to their person or property.
• ONLINE BIDDING: Individuals must wire 10% of opening bid amount (minimum $10,000) 48 hours prior to auction to be fully authorized to bid online. Contact CJ Auctions at 918 550 8118 for detailed wiring instructions. (Note: If property is selling by the acre then opening bid is multiplied by the total acreage)
LICENSE INFO:  OK RE Lic# 159708 Ronn Cunningham | Cunningham Johnson Auctions LLC
Method of Sale: Buyer's Choice, By the Acre
• Buyer's choice may be offered when more than one property/parcel is being auctioned.
• Successful high bidder wins the right to choose a property/parcel or properties/parcels from a grouping of similar or like-kind
properties.
• After high bidder selection, the property(s) is deleted from the group and the bidding on Oklahoma land for sale recommences.
• Process continues until all properties/parcels are selected.
• When selling by the acre, high bid is multiplied by the number of surveyed acreage.